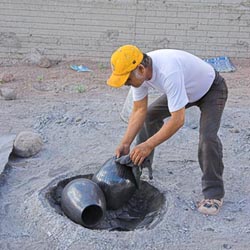 Reynaldo plucks a still hot olla from
his firing pit.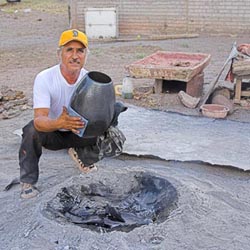 Reynaldo shows off one of his
newest beauties.
Reynaldo Quezada Celado
Reynaldo Quezada, youngest brother and student of founder, Juan Quezada, pioneered the "tejido" or textured style of decoration. With a small tool, he painstakingly makes hundreds of regularly spaced indentations in damp clay. These modern black textured bowls called "cazuelas" and pots in the form of flying saucers are the trademark of this master potter. Reynaldo Quezada's work is featured in The Many Faces of Mata Ortiz and Ceramica de Mata Ortiz.